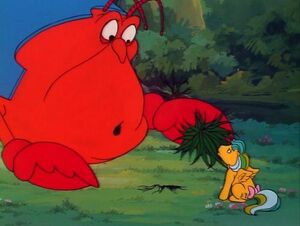 Captain Crabnasty is a male Crabnasty, giant crabs with powerful pincers. Despite his appearance, he is a creature with a sense of justice and is very friendly with the ponies. He alomgside with his two subordinates were finding some escape criminals known as "the Flores", even if they tear down the trees in Dream Valley. However, due to the Flores's lies, Megan and ponies defeated them and shuts the Crabnasties in a stone prison away from Paradise Estates. After they realized that the Crabnasties were telling the truth, they then helped them capture the Flores. Posey apologies for their wrongful arrest and the Crabnasties respond by plowing her garden, making it ready for replanting.
He was voiced by Peter Cullen (best known as the voice of Optimus Prime).
Ad blocker interference detected!
Wikia is a free-to-use site that makes money from advertising. We have a modified experience for viewers using ad blockers

Wikia is not accessible if you've made further modifications. Remove the custom ad blocker rule(s) and the page will load as expected.