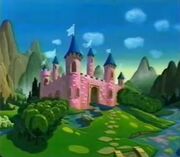 Dream Castle is the home of the ponies living in Dream Valley. In My Little Pony: The Movie, it was taken over by the Grundles and the ponies moved to Paradise Estate.
It's based on the 1983 playset, that comes with Majesty and Spike.
Ad blocker interference detected!
Wikia is a free-to-use site that makes money from advertising. We have a modified experience for viewers using ad blockers

Wikia is not accessible if you've made further modifications. Remove the custom ad blocker rule(s) and the page will load as expected.