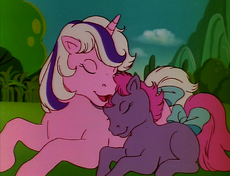 Ember is the first Baby Pony to appear. She appears to be under the care of Twilight. At the beginning of the film, she tried to jump from a high cliff to the water, but was grabbed by Firefly. She wonders if she can grow up to fly like a Pegasus pony or learn magic like a Unicorn, but Twilight assures her she'll grow up to be her own special pony.
She was one of the ponies to be captured by Scorpan and his stratadons, prompt Twilight to join the rescue team (including Megan, Firefly, Bow Tie, and Applejack) on the quest to Midnight Castle.
Ad blocker interference detected!
Wikia is a free-to-use site that makes money from advertising. We have a modified experience for viewers using ad blockers

Wikia is not accessible if you've made further modifications. Remove the custom ad blocker rule(s) and the page will load as expected.