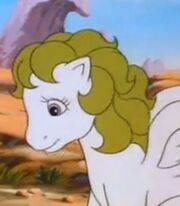 Surprise is a fun-loving Pegasus pony. She's best friends with Spike and Danny.
She was the inspiration for Pinkie Pie in My Little Pony: Friendship is Magic. She is creator Lauren Faust's childhood toy and in fact, originally wanted her as one of the main ponies, but Hasbro lost the trademark to her name. So Lauren resigned the character, giving Pinkie Pie her G3 counterpart's name, colors and cutie mark (3 instead of 4), and her wings to the pony character that became Fluttershy. As a nod to the G1 character, Pinkie Pie's first line (not counting the big gasp) was "Surprise!".
Ad blocker interference detected!
Wikia is a free-to-use site that makes money from advertising. We have a modified experience for viewers using ad blockers

Wikia is not accessible if you've made further modifications. Remove the custom ad blocker rule(s) and the page will load as expected.